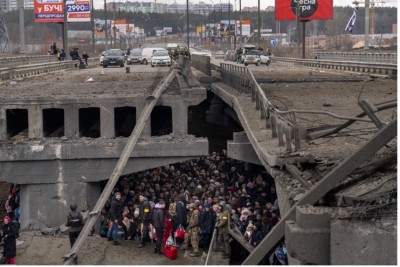 Posted March 28, 2022 by Andrea M. Dalimonte
"Now is the time to stand united in solidarity with the people of Ukraine. As the crisis in Ukraine continues, Ukraine needs international solidarity, demanding that Russia immediately cease the hostilities in Ukraine."
Ukraine Crisis: International Response to Russia's Attack Against Ukraine
By: Andrea M. Dalimonte
Monday, March 28
On February 24, 2022, Russia launched a full-scale military attack against Ukraine, violating international law and creating a dire humanitarian crisis. Russian forces have fired more than 700 missiles since the beginning of the invasion, targeting several major cities in Ukraine.[1]  At least forty-three hospitals and medical facilities have been attacked by Russian airstrikes, and other critical infrastructures have been destroyed, including schools, airports, and many residential areas.[2] The invasion has left hundreds of civilians dead and forced more than a million people to flee their homes.[3] As the situation continues to escalate, more than 10 million people are estimated to flee Ukraine in search of safety, the largest refugee crisis in Europe in over a century.[4]
Russia's invasion of Ukraine constitutes a crime of aggression under international law and has been widely condemned within the international community.[5] The invasion of Ukraine violates Article 2(4) of the U.N. Charter, which prohibits the "use of force against the territorial integrity or political independence of any State." [6] Russia's use of force cannot be justified as "self-defense" under Article 51 of the UN Charter, which preserves the right to defend oneself when an armed attack occurs.[7] In other words, there must be an armed attack that has already begun or is imminent, and the force used in self-defense must be the only way of averting it.[8] Russia's attack, however, is condemned as "unprovoked" and "unjustified." [9] Emphasizing the gravity of the situation, the United Nations General Assembly held an emergency special session on the Ukraine crisis where a 193-member body convened to discuss the Ukraine invasion after Russia vetoed a Security Council resolution.[10] Ukraine's U.N. Ambassador Sergiy Kyslytsya spoke at the assembly and said, "[t]hey have come to the Ukrainian soil not only to kill some of us, not only to shift our cause and priorities, they have come to deprive Ukraine of the very right to exist." [11] The Assembly voted 141-5 in favor of a resolution demanding that Russia "immediately, completely and unconditionally" withdraw its military forces from Ukraine.[12] The vote demonstrates a growing international unity against Russia's invasion of Ukraine.
The civilian populations are the ones most impacted by Russia's attack, which has led to humanitarian assistance for Ukrainians—both in the United States and abroad. In response to the refugee crisis, many neighboring countries have opened their borders to those fleeing the violence.[13] Countries – like Poland, Hungary, Slovakia, Moldova, and Romania – have been distributing essential relief items, creating temporary shelters, and providing information on asylum procedures.[14] The United States is providing over $186 million in additional humanitarian assistance to support internally displaced persons in Ukraine and to help surrounding countries cope with the influx of refugees.[15]
The international community has also imposed severe financial sanctions and export controls in response to Russia's aggression against Ukraine. The U.S., EU, and the UK have cut off Russia's largest banks from accessing their financial systems and have imposed prohibitions on the ability to engage in transactions with Russia's financial institutions.[16] The United States has imposed blocking sanctions as well as debt and equity restrictions on certain major Russian companies.[17] In addition, the U.S. announced a ban on all Russian oil and gas imports, targeting the country's main revenue source.[18] The sanctions will impose enormous costs on Russia's economy, effectively isolating Russia from the global financial system. Inflicting economic punishment aims to penalize Russia and discourage it from further aggression. 
Now is the time to stand united in solidarity with the people of Ukraine. As the crisis in Ukraine continues, Ukraine needs international solidarity, demanding that Russia immediately cease the hostilities in Ukraine. The war is creating a devastating humanitarian crisis felt around the world, and as the health and safety of millions of people are at risk, the protection of civilians is paramount. The international community must continue to take all possible action to end the armed conflict and bring humanitarian relief to civilians.
*Photo courtesy of Emilio Morenatti, Associated Press (2022). 
[1] Michael Conte, US defense official says Russia has launched 710 missiles against Ukraine and forces are now outside Kharkiv, CNN (Mar. 9, 2022, 11:32 AM), [https://perma.cc/C7S4-KS5T].
[2] Press Release, Security Counsel Amid Violence, Mass Forced Displacement, 'Lives of Millions' of Ukrainian Civilians at Stake, Humanitarian Affairs Chief Tells Security Council, U.N. Press Release S/C 14812 (Feb. 28, 2022), [hereinafter U.N. Resolution].
[3] 1 million refugees flee Ukraine in week since Russian invasion, Aljazeera (Mar. 2022), [https://perma.cc/N43Z-K8SQ].
[4] U.N. Resolution, supra note 2.
[5] Stephen P. Mulligan, Cong. Rsch. Serv., LSB 10710, The Law of War and the Russian Invasion of Ukraine 1 (2022).
[6] U.N. Charter art. 2, ¶ 4.
[7] Mulligan, supra note 5, at 1–2.
[8] Id.
[9] U.N. Resolution, supra note 2.
[10] Margaret Besheer, UN General Assembly Overwhelmingly Condemns Russia's Invasion of Ukraine, VOA (Mar. 2, 2022, 3:22 PM), [https://perma.cc/XR7X-24GY].
[11] Id.
[12] General Assembly resolution demands end to Russian offensive in Ukraine, UN News (Mar. 2, 2022), [https://perma.cc/E4WU-4TJD].
[13] Poland to set up reception centres for fleeing Ukrainian refugees, Aljazeera (Feb. 24, 2022), [https://perma.cc/G7AW-6Q3S].
[14] UNHCR mobilizing to aid forcibly displaced in Ukraine and neighbouring countries, UNHCR (Mar. 1, 2022), [https://perma.cc/G3A2-N75K].
[15] Press Release, Anthony J. Blinken, Secretary of State, Additional Humanitarian Assistance for the People of Ukraine (Mar. 15, 2022).
[16] Cory Welt, Cong. Rsch. Serv., IN 11869, Russia's Invasion of Ukraine: Overview of U.S. and International Sanctions and Other Responses 2–3 (2022).
[17] Id.
[18] Kathryn Watson et al., Biden bans Russian oil and gas imports to U.S., targeting "main artery" of Russia's economy, CBS (Mar. 8, 2022, 6:55 PM), [https://perma.cc/AQA5-QJWY].
Published:
Thursday, April 28, 2022