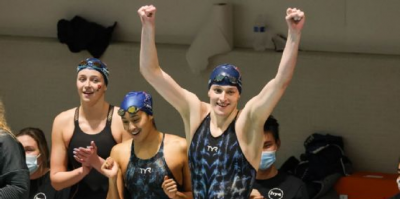 Posted February 28, 2022 by Sidney E. Holler
"By reducing ability to biology, critics of trans participation in sports reinforce gender stereotypes that push trans and cisgender women backward, ultimately dampening competition and threatening the legitimacy of women's sports."
"Fairness" for Who? Transgender Women Athletes Stay Afloat for Now.
By: Sidney E. Holler
Monday, February 28
In recent weeks, controversy has been brewing regarding whether one of the country's best woman athletes should be allowed to compete: University of Pennsylvania swimmer Lia Thomas. Thomas, a transgender woman, has excelled during her first season on the women's team at Penn, calling attention to transgender participation in a world of sex-segregated sports.[1]
On January 19, the NCAA voted to amend its policy on transgender athletes, calling for transgender participation to be determined by the policy of the national governing body of each sport.[2] In response, USA Swimming issued its new transgender athlete policy on February 1, requiring trans women to prove "they have no competitive advantage . . . and to maintain a testosterone level below 5 nanomoles per liter for 36 consecutive months."[3] The NCAA, however, declined to implement USA Swimming's policy this season, which would have made Thomas ineligible for competition. [4]
The NCAA claims its policy "preserves opportunity for transgender student-athletes while balancing fairness, inclusion and safety for all . . . ."[5] However, many wonder how "fair" it will be if transgender athletes are excluded from competing.[6] For some, the exclusion of athletes like Thomas is the goal.[7] On February 1, Nancy Hogshead-Makar, an Olympic swimming gold medalist, submitted a letter to the Ivy League in opposition to Thomas on behalf of sixteen anonymous women on Penn's swimming and diving team.[8]
Many of Thomas's critics argue transgender women athletes present an unfair challenge to cisgender women.[9] Naysayers worry that even testosterone-suppressing hormone treatments do not "neutralize the inherent advantages that come with being [assigned] male [at birth]."[10] These arguments promote the paternalistic idea that cisgender women need protection. Yet such policies are proven to harm women more than they help; in the words of Ruth Bader Ginsburg, "the pedestal you put women on is a cage."[11] Moreover, these fairness arguments completely ignore the interests of trans women athletes and the discrimination they face. By reducing ability to biology, critics of trans participation in sports reinforce gender stereotypes that push trans and cisgender women backward, ultimately dampening competition and threatening the legitimacy of women's sports.
Notably, the same concern for "fairness" is not reflected in policies regarding transgender men athletes. Due to the consensus that people assigned female at birth are physically disadvantaged to cisgender males, the NCAA does not require trans men to undergo hormone therapy before competing on men's athletic teams.[12] However, it is not clear that testosterone levels correlate to better performance,[13] nor do they authenticate one's biological sex.[14] Beyond the social barriers, hormone testing presents another obstacle to trans participation in athletics and women's equality.
It is not all bad news for trans athletes though. Earlier this month, Athlete Ally released a letter organized by transgender swimmer Schuyler Bailar and signed by more than 300 members of the swimming community advocating for Thomas and trans participation in sports.[15] At present, Thomas is eligible to compete in the championships this March, but the future of trans participation in the NCAA remains uncertain.  
[1] Billy Witz, As Lia Thomas Swims, Debate About Transgender Athletes Swirls, N.Y. Times (Jan. 24, 2022).
[2] Board of Governors Updates Transgender Participation Policy, NCAA (Jan. 19, 2022, 8:41 PM) ("The policy is effective starting with the 2022 winter championships. . . . Full implementation would begin with the 2023-24 academic year."). It requires documentation of testosterone levels starting four weeks prior to their sport's championship selections, though transgender women were already required to be on testosterone-suppressing drugs for twelve months before becoming eligible to compete. Id.
[3] Katie Barnes, Penn Swimmer Lia Thomas Leaves Ivy League Meet a Four-Time Champion, But Questions Remain, ESPN (Feb. 20, 2022).
[4] Id.  (stating that Thomas began hormone therapy only 34 months before the championships take place in March, two months shy of the requirement).
[5] NCAA, supra note 2.
[6] See Barnes, supra note 3.
[7] See id.
[8] Id.
[9] David Rieder, Lia Thomas, Transgender Swimmer from Penn, Swims Fastest Times in Nation; Controversy Brewing, Swimming World (Dec. 7, 2021).
[10] Id.
[11] RBG: 'The Pedestal You Put Women on Is a Cage', CNN Videos (Feb. 11, 2018).
[12] Rieder, supra note 9.
[13] For more on athletic regulation of hormones, see Katrina Karkazis & Rebecca M. Jordan-Young, The Powers of Testosterone: Obscuring Race and Regional Bias in the Regulation of Women Athletes, 30 Feminist Formations 1, (2018); see also Erin Buzuvis, Hormone Check: Critique of Olympic Rules on Sex and Gender, 31 Wisc. J. L. Gender & Soc'y 29 (2016).
[14] See Bartlett et al., Gender and Law: Theory, Doctrine, Commentary, 392–393 (8th ed. 2020). For example, in 2019, South African track athlete Caster Semenya was subjected to "gender verification" testing, which showed that she had naturally high levels of testosterone. Id. Such testing, which requires talented athletes to "prove" that their sex, affirms gender stereotypes that women athletes are naturally inferior and needlessly punishes successful women athletes who may have atypical biology. Id.
[15] Barnes, supra note 3.
Published:
Monday, February 28, 2022