Meredith Rich-Chappell (Class of 2000)
Meredith Rich-Chappell is an attorney at Lederer Weston Craig PLC in Cedar Rapids. Originally from Davenport, IA, Meredith received her Bachelor of Arts in History and her Bachelor of Science in Political Science. While at Iowa Law, she served as the Senior Technical Editor for The Journal of Gender, Race & Justice.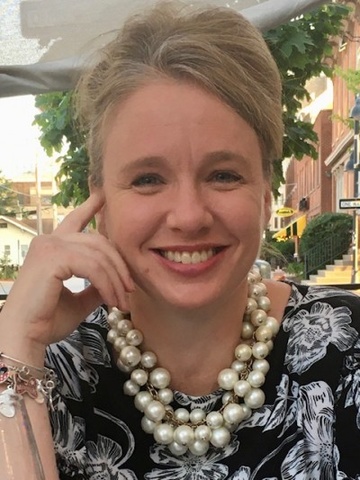 What is your current position? In your current position, what responsibilities do you hold, and what is your favorite part of your work?
I am an attorney at Lederer Weston Craig PLC in Cedar Rapids, working part-time. I work almost exclusively on researching and writing motions and briefs in both trial and appellate cases in state and federal courts. Research and writing is my favorite part of my job. My research and writing are primarily in tort and product liability insurance defense cases, professional malpractice cases, and municipal law. I have been at Lederer Weston Craig since 2016.
I am also an adjunct instructor at the Iowa College of Law. For 12 years I have taught the spring semester judicial externship seminar for students serving as externs to judges in state and federal courts. I love working with students to introduce them to the benefits of serving as a law clerk and to encourage them to consider this opportunity after law school. I also serve as an adjudicator for the University of Iowa in Title IX and Code of Student Life misconduct hearings.
What did you most enjoy about the Journal of Gender, Race & Justice?
My husband went to law school before I did and was in the same class as the students who conceived of and started JGRJ. I got to know them and JGRJ before I started law school. JGRJ was the one thing I knew I wanted to do in law school. My experience was everything I hoped it would be. I most enjoyed working with a diverse group of passionate people from backgrounds very different than mine, especially collaborating with them in the publication process. I learned from my fellow writers and editors how their different experiences impacted how they experienced the legal system and how we, as attorneys, could work to make it more inclusive for people of varying backgrounds and experiences.
How did your experience on JGRJ influence your career path? 
My experience writing for and working on JGRG emphasized for me that everyone has different experiences that are influenced by their backgrounds and identities and that those have to be taken into account in the legal system. When I served as a prosecutor my experience on JGRJ instilled in me the importance of trying to see things from others' point of view, including how race, gender, sexual orientation, socio-economic status, and other parts of a person's experience and identities influenced where they were at in their lives. This mindset led to my decision to help develop and serve as the first prosecutor for the Johnson County Drug Treatment Court, a problem-solving court designed to work with offenders with substance abuse and mental health issues to provide intense supervision to allow them to remain in the community while addressing the issues that lead to them commit crimes and working with them to secure housing and employment to give them a strong support network in the community and hopefully work their way out of the criminal justice system.
What have you been up to since being on JGRJ & graduating from Iowa Law?
Professionally, immediately after law school, I served as a law clerk to the Honorable Linda Neuman of the Iowa Supreme Court and then the Honorable Harold D. Vietor of the United States District Court for the Southern District of Iowa. I was an Assistant Johnson County Attorney for 10 years, starting with juvenile cases and then prosecuting narcotics, burglary, and homicide cases and serving as the Drug Treatment Court prosecutor. I then worked at Kids First Law Center, a non-profit, where I represented children in high conflict divorce and custody cases and worked with parents collaboratively in an effort to resolve child care and custody issues outside of court.
Personally, I have been married to Andy Chappell for 22 years, and we have lived in Iowa City since graduating from the College of Law. After a long and winding journey through infertility treatments, we had our son Alex, who is now 13 years old. We've enjoyed traveling throughout the country, especially Key West. We've also discovered the joy of road trips during the pandemic. I served on the Iowa City Public Library Board of Trustees for 12 years, and continue to volunteer at the Library. I've spent more time than I ever imagined watching Alex participate in baseball, basketball, and especially soccer, but have enjoyed it all. I love spending weekends watching him play soccer and spending time our with Newfoundland, Boomer.